Post by blitzkriegomega on Jan 3, 2014 23:43:33 GMT -5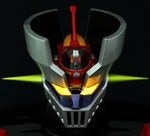 So I recently Came across The Double Mazinger model Kit set in an Amazon Sale...I'm kinda waiting for them to come at the moment.
Now, it comes with BOTH a Mazinger Z AND A Great Mazinger. the Great Mazinger I plan on painting the limbs Blue and some detailing, but I already have this shape of Mazinger Z in the Super Robot Chogokin Shin Mazinger that I love ever so much....
Any ideas of Paint Schemes I could do for my Spare Mazinger Z? Whether it's based on another Robot or some other idea, I just don't want to have two identical Mazinger Zs...
The Mazinger Z from the model is Go Nagai's design. The Shin Mazinger from SRC is Ken Ishikawa's design. They are not identical. As a matter of fact, the only similarity between the two is the little protrution from the chest armor. Other than that, they are way different. For starters, the Nagai Mazinger Z does not have the horrible thunder-thighs/wasp-waist sindrome!

}D
I think that's more of a Proportion thing than an actual Design thing...like how SRC Gurren Lagann was designed to look like it was ripped right out of the animation in an off-model moment rather than from any actual lineart.