Post by Lejam on Feb 2, 2023 3:05:30 GMT -5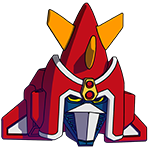 I have the Black version of the 2.0.
-> Paint is way better than the Cartoon version.
They should have paint it better, specially on red parts who are fadding out a bit.
A full painted in mat finish could be a pretty homage to animation.
The good reference for such paint job render are the deformation Space Seekers.
They are planning a light of Peace X version with silver thighs, etc...
Imo they are ballsy with this release because the KO MP-44 (with imporved backpack) sold a lot.
But you know what ? A good toy is always scheduled on shelf, no matter the versions you already have.
...
Let me share some news about MAKETOYS :
maybe some of you already know that I am part of Maketoys design development now (still with MMC too).
Things are taking time to be rescheduled, Maketoys got a long pause with unfinished projects
and COVID is a not over (special thanks to the factory labors who are facing so many difficultiues).
• Actually the CONEHEADS are processing, I will soon wrapp some shots and prepare the packagings.
(MTRM-15 Endgame (DIRGE) was already out long time ago)
• 2 headmasters are also in the work pipe, MTRM-14 GRANDMEIN (MP HIGHBROW) is back on preorders

I am preparing 2 new HEADMASTERS (sorry I can not reveal).
-> the task will be high considering the work done before from Mr LU (POSE+ designer now).
-> I will try to keep the continuity of the creativity he gave to the brand.
Here we go !!!